Doctor explains how field hospitals aid COVID-19 fight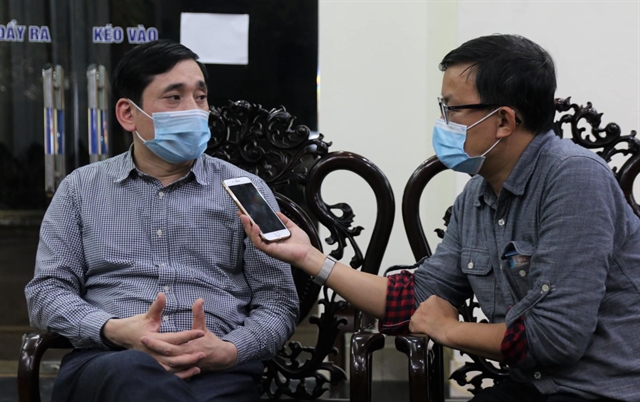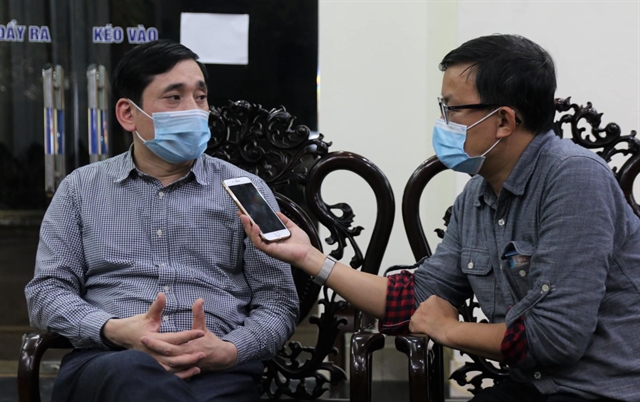 Dr. Đỗ Ngọc Sơn (left) talking about his work of the COVID-19 pandemic fighting. VNA/VNS Photo
Dr. Đỗ Ngọc Sơn, vice head of Emergency Department of Bạch Mai Hospital, talks with Tin tức (News) online newspaper about his work to establish field hospitals in COVID-19 outbreak areas
How did you feel when you received an urgent order to go to the Central Highlands province of Gia Lai to assist the local health worker in its fight against the pandemic while you were in the hotspot in Hải Dương Province?
I got an order to go to Gia Lai Province in an online meeting of the Ministry of Health and the localities which were suffering a pandemic outbreak. In the meeting, I realised Gia Lai needed assistance. As a doctor, I must always be ready to go anywhere when the country needs me to.
You directly supervised the establishment of the second field hospital in Hải Dương during the new outbreak of COVID-19. Looking back at the pandemic control process from Đà Nẵng City to Hải Dương, how was the establishment of field hospitals by Bạch Mai Hospital organised?
Minister of Health Nguyễn Thanh Long requested Bạch Mai Hospital to quickly set up a field hospital in Hải Dương right after the new COVID-19 outbreak. The minister's idea and determination motivated Bạch Mai Hospital's leaders and we understood that we had to be more urgent, faster and more determined to finish the field hospital establishment as soon as possible.
When the COVID-19 pandemic occurred, we needed to establish specialised health facilities to control the pandemic. They could be the National Hospital for Tropical Diseases or other hospitals for infectious diseases and also field hospitals for COVID-19 treatment.
The establishment of specialised treatment facilities is a common feature of infectious disease prevention and control.
Thanks to field hospitals, we could treat the groups of patients, localise and monitor patients who would bring high risks of infection to the community, thereby limiting the spread of the disease.
Bạch Mai Hospital itself underwent a lockdown and quarantine so we had a lot of experience in COVID-19 prevention. I believed with enthusiasm and experience, we could do our part in the establishment and construction of field hospitals.
In addition, it was the determination of the health workers at Bạch Mai Hospital, including Prof. Dr. Nguyễn Quang Tuấn, the hospital director who was always caring and willing to help grassroots hospitals. It was that determination that contributed to our victory over the COVID-19 outbreak in Đà Nẵng last year.
How do the field hospitals in Hải Dương and Đà Nẵng function?
In essence, field hospitals have a similar function of giving treatment to groups of patients with COVID-19 in emergency situations.
When the number of patients increases rapidly, medical facilities become overcrowded, especially medical facilities specialising in infectious diseases, so setting up field hospitals is extremely important for epidemic prevention and control.
In Đà Nẵng, the COVID-19 pandemic broke out in medical facilities, causing many doctors and other health workers to become infected. The establishment of a field hospital for pandemic prevention and treatment for patients was extremely important and urgent.
For Hải Dương Province, when it was not possible to determine the exact number of cases in the community and the source of infection, the field hospital was the place to receive a large number of suspected cases for monitoring, treatment and screening.
If the disease continues to break out, how can the field hospitals operate effectively?
For a field hospital to function well, the most important factor is human resources.
We need a team of highly qualified physicians along with a good operating system, through which the treatment and support tasks match together.
If the treatment and support do not match, it will lead to a situation that there are things the doctors want but the system cannot provide or the system is overloaded and cannot meet treatment needs.
Therefore, in my opinion, field hospitals should only receive mildly-ill patients who might not need treatment but only need to be monitored and quarantined.
For serious cases, the patients should be transferred to specialised medical facilities which have the necessary equipment to ensure the most effective treatment.
As a doctor participating in the fight against COVID-19 pandemic from the very first days, what do you think when you are credited with setting up a field hospital?
I think this is not only my duty but also the duty of any Vietnamese citizen.
As a doctor, I always see it as my duty. I must shoulder the burden of difficulties with my colleagues. I must serve the people and support our colleagues. It is both the responsibility and duty of a doctor.
I feel proud and honoured for my work in the fight against COVID-19.
From Đà Nẵng to Hải Dương and the upcoming Gia Lai, will the doctor's enthusiasm and affection remain the same as in the early days?
I have very special feelings for Hải Dương which is the hometown of my mentor, Professor Võ Văn Đính who was a teacher of many generations of doctors specialising in emergency resuscitation.
This time when we went to Hải Dương, I thought this was an opportunity to repay Professor Đính for his teaching which made me what I am today, so I always told myself to do my best to help Hải Dương.
For the central region, especially Gia Lai Province in the Central Highlands, resuscitation systems are still in short supply and need a lot of support.
Surely, our colleagues in Gia Lai have had a hard time facing the COVID-19 pandemic.
I believe that the presence of me and my colleagues would be a tremendous encouragement to the doctors and we will win this war again. — VNS