COVID-19 patient in HCM City has UK variant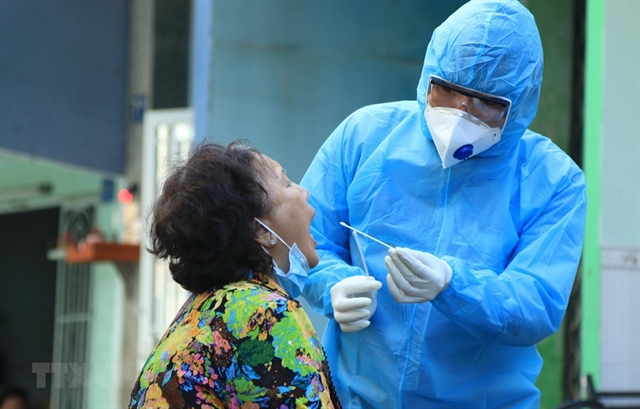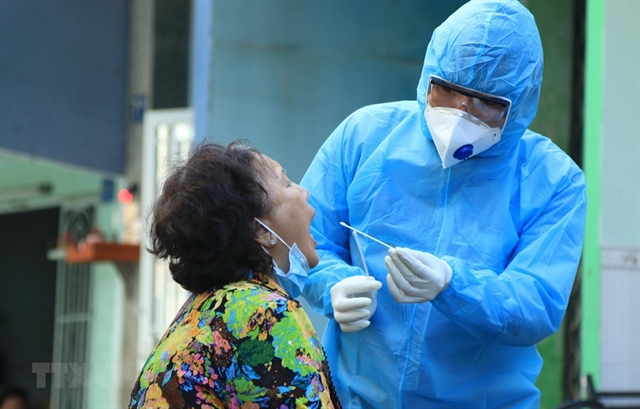 A health official takes a sample for COVID-19 testing in HCM City. VNA/VNS Photo Đinh Hằng
HCM CITY— The HCM City Hospital for Tropical Diseases on February 1 has confirmed that a COVID-19 patient from Hải Dương Province, who is being treated at Củ Chi Field Hospital in HCM City, has the variant of SARS-CoV-2 identified in the UK in the fall of 2020.
According to UK experts, the B.1.1.7 variant spreads more easily and quickly, and may be associated with an increased risk of mortality compared to others, but more studies are needed to confirm this finding.
Dr Nguyễn Văn Vĩnh Châu, director of the HCM City Hospital for Tropical Diseases, said the hospital's research team and molecular biology experts from the Oxford University Clinical Research Unit sequenced the entire genome of strain of SARS-CoV-2 from the patient's sample with CoV-GLUE software.
The analysis showed that the strain carried 17 typical mutations of the B.1.1.7 variant, he said.
This variant has been blamed for the quick spread in the UK and other countries in Europe, he added.
The variant may be related to the recent outbreak in northern Hải Dương Province, experts have said.
Eighteen of all 19 cases who had direct contact with the 28-year-old male patient from Hải Dương Province have tested negative for SARS-CoV-2.
Of the 134 passengers and crew members who were on the same Hà Nội-HCM City flight as the patient, 95 have had negative testing results. The others are waiting for test results.
In another case in the south, HCM City agencies have identified 51 people, including crew members, who travelled from Cát Bi airport in Hải Phòng City to HCM City on flight VJ275.
One of two patients who recently tested positive for the virus in Bình Dương Province were on this flight.
HCM City authorities are continuing to trace the contacts of passengers on the flight. Health officials have so far taken samples from 46 of the 51 passengers.
Officials are also continuing to trace contacts of the two patients in Bình Dương Province.
The HCM City Centre for Diseases Prevention and Control is continuing to check quarantine areas in districts, and hospitals and hotels.
Teaching online
HCM City and many other provinces have allowed schools to close. Many schools are teaching online.
The HCM City People's Committee allowed schools to close yesterday (February 2) to ensure COVID-19 prevention and control.
Students are studying online under the regulations of Ministry of Education and Training.
The city Department of Education and Training has ordered schools' managers to carry out disease prevention measures at their facilities.
The city has more than 2,300 schools with more than 1.7 million of students from kindergarten to high school levels. It also has nearly 400 vocational training schools and colleges, and other educational establishments.
Students will take Tết holidays from February 8-16.
The Departments of Education and Training in Cần Thơ City and Phú Yên Province allowed students to stay at home and learn online beginning on February 2.
Students in Hậu Giang Province are not learning online and are taking their Tết holiday on February 3-16, four days earlier than the schedule issued by the Department of Education and Training.
Long An Province's students are taking the Tết holiday on February 2-21, while Lai Châu and Cao Bằng provinces have been studying online since February 1. The latter two provinces have not decided when students will return to school. VNS