COVID-19 creates opportunities for HR industry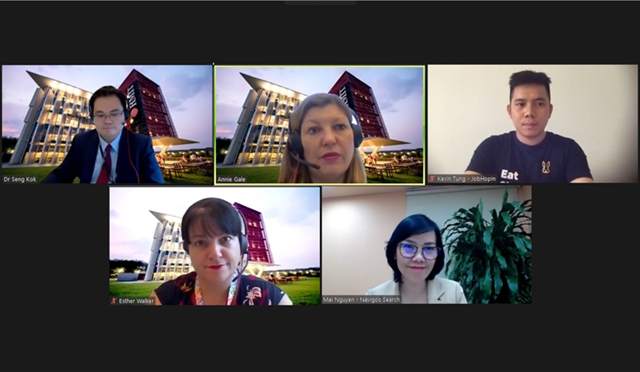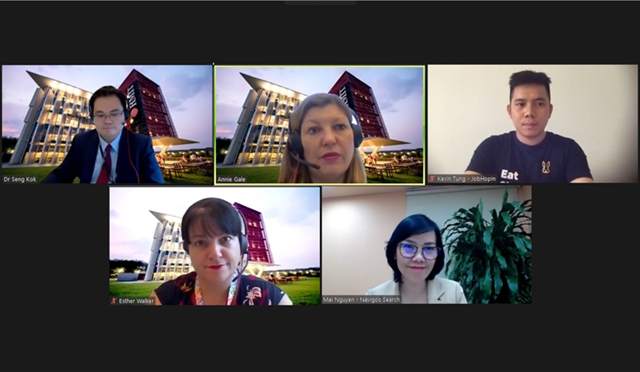 Speakers at the RMIT HR forum provided unique perspectives into how the human resources industry adapted in the face of COVID-19 challenges. — Photo courtesy RMIT
HÀ NỘI — The challenges from the COVID-19 pandemic have put a spotlight on corporate practices, and provided opportunities for businesses to utilise technology and the digital space to strengthen workplace processes and cultures.
Experts in an online forum on human resources (HR) held by RMIT University said HR management has come to the forefront during this time.
The experts said leaders across the world have shown great adaptability with the transition to online platforms and procedures due to the pandemic.
RMIT Human Resources Director Annie Gale said: "Perhaps one of the greatest shifts around the world was the introduction of flexible working as commonplace, which also encouraged HR teams to focus on flexibility in their own approaches."
She added: "New terminologies have become normalised and we have had to quickly create new policies and procedures around them."
"At RMIT, we had to figure out how to enable an entire workforce to work from remote locations, and how to support people who didn't have suitable spaces to work from or jobs that could be easily done from home."
By introducing a formal flexible working framework, RMIT's HR team were able to move the university forward in terms of inclusion, employee engagement and productivity.
Gale said: "It's fair to say that we won't see a return to compulsory full-time office working for the majority of roles," adding "I truly believe that flexible working can become an advantage for RMIT as well as other organisations to engage a more diverse and inclusive workforce."
At the same time, Navigos Search Managing Director Nguyễn Phương Mai highlighted the evolution of HR roles that have moved away from handling only core business functions (like recruitment, workforce development, and compensation and benefits) and towards more involvement in the operations of other departments in the organisation.
She said: "HR teams are helping facilitate the review process in other departments so that they can reshape and get ready to bounce back after the pandemic."
She added: "They advise department heads on restructuring job scopes, improving productivity, optimising costs, as well as constantly providing top leadership roles strategic HR plans to align with business changes."
Mai said that the most sought-after HR professionals are those that possess a business mindset, have knowledge of HR information systems, and have experience in risk management and profit and loss management.
"HR candidates are expected to be the business advisors to balance employee benefits and the profit and productivity requirements of a company."
Seeing COVID-19 travel restrictions put a barrier on international recruitment, making talent acquisition one of the most heavily impacted functions of HR teams worldwide last year, RMIT Talent Acquisition Manager Esther Walker said that the university had to provide stronger international mobility and onboarding support to foreign recruits, which involved more complex procedures to facilitate flights, quarantine, work permits and visas.
In 2020, the recruitment process at the university also went 100 per cent online which was a major shift for the recruitment practices of staff based locally.
Walker said: "We have been agile in the way we bring people, processes, connectivity and technology together to find the best way of working."
The pandemic also opened more possibilities to apply artificial intelligence (AI) and machine learning (ML) to modernise recruitment practices, according to JobHopin Founder and CEO Kevin Tùng Nguyễn.
Kevin Tùng Nguyễn, who was one of four Vietnamese people on the Forbes 30 Under 30 Asia 2019 list, said: "AI is able to source from selective job platforms and our talent pool of over 1.9 million unique talent profiles. Moreover, the data is compiled from real-time market updates and insights."
He revealed that his company's AI platform can screen 40,000 to 50,000 CVs per day, compared to 300 to 400 CVs if done by humans. This, he said has led to some of his big-corporate clients reporting up to an 85 per cent decrease in recruitment costs.
"For HR tech, especially in the field of recruitment, AI and deep learning are fields that we find particularly important going forward," he said. — VNS