Corporate social responsibility imperative for firms to survive pandemic: FCV chief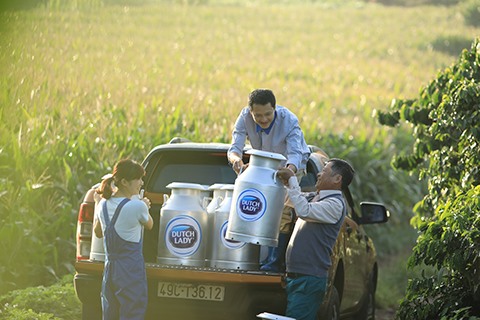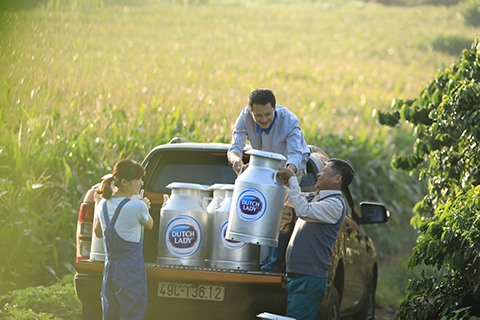 The Dairy Development Programme is helping farmers overcome a turbulent year.
HCM CITY — Corporate social responsibility is the decisive factor that could enable Vietnamese firms to survive the pandemic, Berend van Wel, the managing director of FrieslandCampina Vietnam (FCV), has said.
"Our corporate social responsibility initiatives are guided by our goal of nourishing by nature and by our mission of helping Vietnam reach higher."
A recent survey by the UN found that only 100,000 out of 800,000 enterprises in Vietnam are aware of sustainable development, and only 2,000 are members of a sustainable development business community.
The limited awareness is attributed to poor governance and lack of strategising.
Speaking at the recent Vietnam Corporate Sustainability Forum, Deputy Prime Minister VũĐứcĐam said many Vietnamese companies were ignoring sustainability, a factor that boosts long-term growth.
"Sustainable development is development that meets the needs of the present without having a negative impact on tomorrow's natural ecosystem," he said.
FCV was honoured as a sustainable company by the Vietnam Chamber of Commerce and Industry, Ministries of Labour, Invalids and Social Affairs and Natural Resources and Environment and the Labour Federation.
"Our global mission is nourishing by nature, which is at the heart of everything we have done over the past 25 years," van Wel said.
"Our mission is a guideline for production, business and corporate social responsibility activities in the Vietnamese market, focusing on nutritional standards, consumer living conditions and sustainable development."
On the occasion of the 25th anniversary of FCV in Vietnam last year, the company said it had set out three strategic development focuses.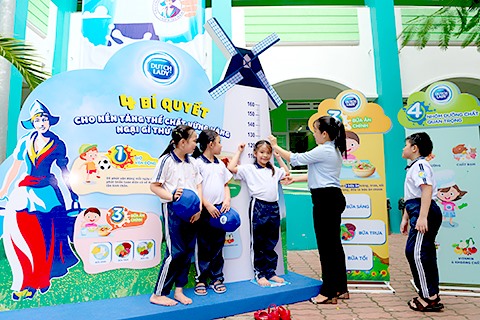 As many as 1, 250 nutrition corners at elementary schools in Việt Nam provide information about healthy nutrition to students.
The first is education and development of nutrition for children.
The company has carried out the ĐènĐomĐóm Study Promotion Programme and Drink-Move-Be Strong campaign at schools, benefiting millions of children across the country in the last 25 years.
Dutch Lady has a five-year agreement with the Ministry of Education and Training to help improve primary school students' awareness of nutrition and physical health, set up 1,250 booths to disseminate information about nutrition and build playgrounds in 65 schools.
More than 1.5 million students at 1,500 primary schools are set to benefit from these activities.
The second strategic focus is improving the lives of people in the country, especially farmers, through a dairy development programme and an effective and successful community assistance model.
It has organised 15,000 training sessions with experts and farmers from the Netherlands, taken care of the health of dairy cows for free, managed farms, and provided technical counselling.
It has created more than 7,000 jobs in rural areas.
It has since 1996 provided more than 3,000 farming households with professional knowledge and skills to breed dairy cows to Dutch quality standards, and the number of cows has increased in the period to 35,000.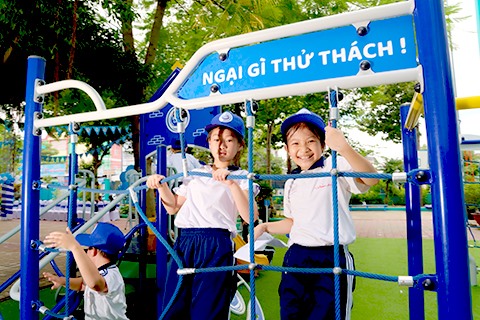 About 65 playgrounds in the country, formed under the programme "For Vietnam to Leap Forward and Reach Higher", provide a space for students to exercise and learn how to conquer their fears about challenges.
The third focus is protecting the environment and sustainable development.
FCV has taken efforts to create an effective and sustainable production chain by joining Packaging Recycling Organisation Vietnam and implementing environmental protection measures such as reducing the use of fossil fuels, reducing the discharge of CO2 and plastic waste into the environment, saving water, and enhancing waste recycling.
In 2020 the company saved 6 million kWh of electricity at its two plants in BìnhDương and Hà Nam, reducing CO2 emissions by nearly 4,000 tonnes, and 45 million litres of water in production.
More than 98 per cent of wastes in the factories were reused.
The company aims to achieve zero per cent of landfilled waste within the next few years.
As one of the founding members of the Packaging Recycling Alliance, since 2019 the company has sought to promote a circular economy, especially recycling of packaging for a cleaner and greener Vietnam, helped raise consumers' awareness of sorting, recycling and reuse of packaging through practical programmes.
At the recent 2020 Việt Nam Corporate Sustainability Forum (VCSF) in HàNội, Caitlin Wiesen, chief resident representative of the United Nations Development Program (UNDP) in Việt Nam, said: "We cannot achieve the Sustainable Development Goals without businesses as they are the backbone of any economy."
FrieslandCampina first came to Vietnam in 1995 by forming a joint venture with PROTRADE company in the southern province of BìnhDương.
It was one of the first multinational dairy companies in the country.
FrieslandCampina has been a proud winner of the Sustainable Business Award, Asia-Pacific Business Award, Top 10 Prestigious Beverage Companies award, and 100 Best Places to Work in Vietnam, among other honours.