City sets up teams to help foreign firms amid pandemic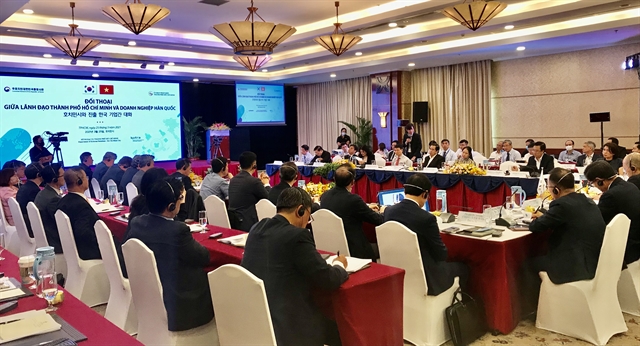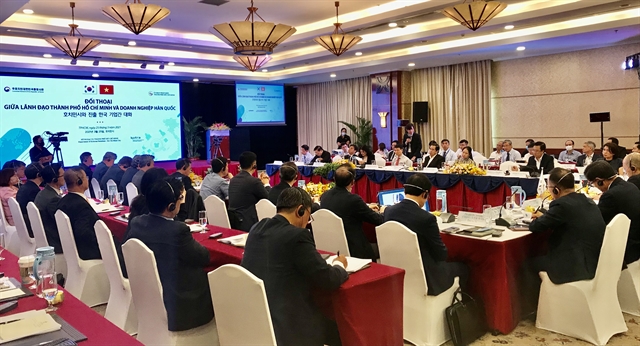 Speakers at a conference with city leaders and Korean firms on Thursday. The city has set up two working groups to help foreign investors in the city. VNS Photo Bồ Xuân Hiệp
HCM CITY — The chairman of the HCM City People's Committee has pledged to improve the business climate for foreign investors by setting up two working teams to assist in their investments.
Speaking at a conference with city leaders and Korean firms on Thursday, Nguyễn Thành Phong said: "The city is committed to a better business climate by issuing more special incentives and policies to attract foreign investors, including those from South Korea."
The city has set up two "interdisciplinary working groups" in charge of promoting foreign investment and international cooperation with the aim of removing challenges facing foreign investors and promoting international cooperation.
"The working groups will increase exchanges with Korean businesses to remove problems facing them in a timely manner," Phong said.
The Department of Foreign Affairs will be the focal point between Korean businesses and concerned agencies, receiving comments and inquiries from Korean firms to forward to agencies, according to Phong.
Most Korean firms said they wanted to resolve problems related to credit support, registration procedures for new business, and renewal of licences in Việt Nam.
Kim Heung Soo, chairman of the Korean Business Association (KOCHAM), recommended that calculation of tax be based on the total tax in the previous year or on the actual sales of the previous quarters in the year, instead of relying on tax agency predictions.
He said that administrative procedures for FDI projects, the establishment of additional legal entities, entity conversion permits, and land transfer procedures for foreign projects remained complicated and should be further simplified or eliminated.
South Korea is one of Việt Nam's major economic partners with more than 5,600 Korean companies investing and doing business in the country.
It ranks third among 110 countries and territories investing in HCM City with a two-way trade turnover of US$66 billion last year.
Despite the impact of the pandemic, South Korea was the city's 5th largest export market with exports worth $1.8 billion last year, accounting for 4.5 per cent of the city's total exports and 9.5 per cent of the country's total exports to South Korea.
"The potential for cooperation between the two sides is great," said Phong.
The city's exports to South Korea were worth more than $366 million in the first two months of 2021, up 30.3 per cent over the same period last year, according to Phong. — VNS