Capital city strives for success despite pandemic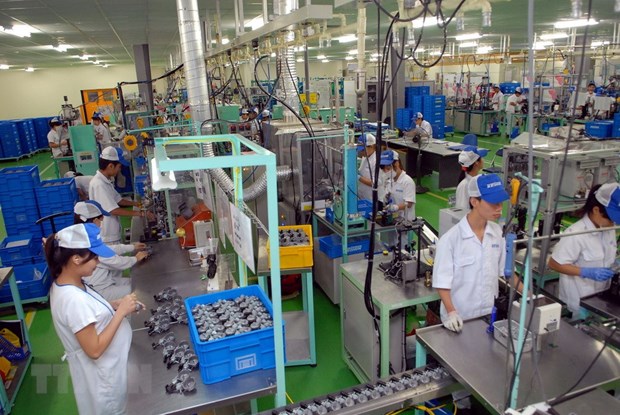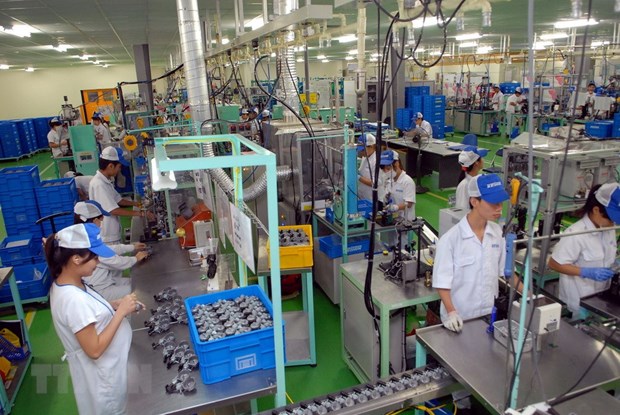 A production chain of automobile components at Thăng Long Industrial Zone in Hà Nội. VNA/VNS Photo Danh Lam
HÀ NỘI ­– Hà Nội is still determined to boost production and business and develop solutions for socio-economic development.
In the first months of the year, Hà Nội continued to assert itself as one of the leading localities of the country with dramatic growth.
According to the municipal People's Committee, total products of the city in the first quarter this year were estimated to increase by 5.17 per cent compared to the rate of 4.13 per cent of the same period last year and higher than the general growth rate of the whole country.
The city was interested in developing agriculture, forestry and fisheries, so these sectors were estimated to increase by 2.51 per cent over the same period last year.
In the first months of the year, the weather was favourable for agricultural production, with rice and spring crops growing and developing well.
Cattle and poultry husbandry developed stably, while African swine fever was controlled. The re-herd activities helped the pig herd increase by 18.2 per cent, poultry increased by 5.4 per cent and fishery production increased by 2.9 per cent.
Industry and construction was estimated to increase nearly 8 per cent compared to 5.6 per cent in the first quarter last year, contributing 1.52 percentage points to the general growth.
With the drastic direction of the city, the COVID-19 pandemic has been controlled in the community so industrial production gradually regained good growth momentum.
The construction sector gained growth thanks to the city's drastic implementation of measures to attract investment and accelerate the implementation and disbursement of public investment.
The service sector was estimated to rise by 4.54 per cent, of which a number of industries maintained good growth, including finance, banking and insurance with 7.43 per cent, real estate business by 7.6 per cent, and wholesale and retail with 6.77 per cent.
However, some industries continued to see negative growth such as art and entertainment activities down by more than 15.9 per cent, administration and support services decreased by 7.3 per cent, accommodation and food services down 6.36 per cent, and transportation and warehousing down 2 per cent.
The city reached revenue of VNĐ67.4 trillion (US$2.92 billion), gaining 29.1 per cent of the plan and increasing 2.2 per cent over the same period last year, of which the revenue from import and export activities was VNĐ5.1 trillion (US$2.21 million), reaching 27.3 per cent of the target and increasing by 9 per cent.
However, there were still shortcomings, difficulties and challenges due to the impact of the COVID-19 pandemic.
Key solutions
In order to successfully implement the targets of the economic development plan for 2021 – the first year of the 5-year socio-economic development plan in 2021-2025 – the Hà Nội People's Committee requested all levels and sectors to implement the most important solutions in COVID-19 prevention and control including proactively monitoring and preparing facilities, equipment and vaccine sources.
The city will continue to strongly improve the investment and business environment, accelerate administrative reform, enhance the city's competitiveness, carry out activities to support production and business, and encourage the application of high technology, supporting industries, digital transformation, agricultural production, processing, and consumption.
The city will focus on promoting the implementation and disbursement of public investment capital, further mobilise private capital for development investment, simplify investment procedures, and speed up licensing and implementing projects.
Ground clearance activities for project implementation, especially key projects of transport infrastructure and industrial parks, will be pushed up.
The agricultural sector was asked to actively watch weather developments and strengthen measures to prevent and control African swine fever, influenza A/H5N6 on poultry, quickly re-herd pigs, further develop cows and poultry, and ensure food hygiene and safety.
The sector must accelerate the crop structure transformation, expand cultivated areas for high yield and quality plants, and restructure large-scale commodity production regions.
The city will also concentrate on developing production and technical infrastructure, calling for businesses and investors to pour money into industrial parks and high-tech zones, paying attention to developing the domestic market in association with the campaign "Vietnamese people give priority to using Vietnamese goods", and formulate and implement a plan for consumption promotion programmes.
Hà Nội will build and implement recovery scenarios for its tourism sector by introducing unique tourist products and places attracting tourists to the city.
Besides, all levels and branches needed to further take care of the lives of people with meritorious services to the revolution, job creation and sustainable poverty reduction. – VNS