Businesses told to quickly embrace digital transformation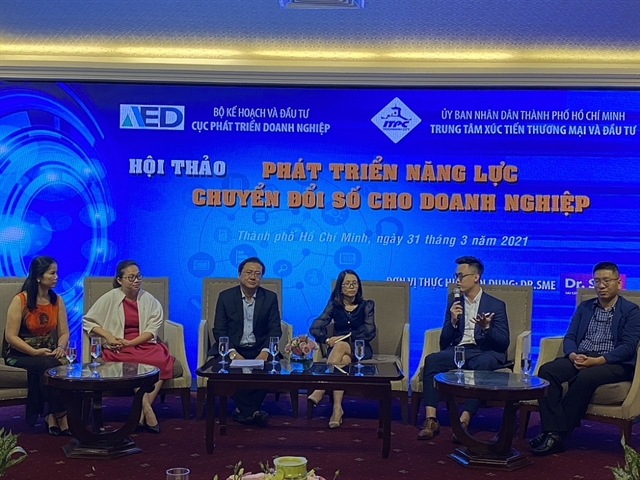 Business executives and experts discuss digital transformation by businesses at a seminar in HCM City on March 31. VNS Photo Thu Hằng
HCM CITY — Digital transformation is an imperative need for businesses to recover from the effects of the Covid-19 pandemic and improve their competitiveness, experts have said.
The Ministry of Planning and Investment last year launched the Digital Transformation Programme for Businesses for 2021-25 to support enterprises, Nguyễn Thị Lệ Quyên of the ministry's department of enterprise development said.
Speaking at a seminar in HCM City this week, she said it was aimed at improving their competitiveness and production capacity.
One of its goals was to increase their awareness and understanding of the importance of digital transformation to their sustainability, she said.
It would benefit at least 100,000 businesses by enabling them to assess their digital transformation readiness and providing training and consultancy, she said.
A network of experts including from 100 organisations to provide advice on and solutions for digital transformation would be established under the programme, she said.
The high rate of cash payments, high cost of digital transformation, underdeveloped information and communication technology infrastructure, and lack of human resources were major hurdles to digital transformation, she added.
Vũ Tuấn Anh, deputy director of DR. SME Restructuring – Digital Transformation Co. Ltd., said managements' awareness and determination played a decisive role in digital transformation.
Businesses should set up a committee just to advise and provide solutions for digital transformation, he added.
Nguyễn Tuấn, deputy director of the HCM City Investment and Trade Promotion Centre, said last year the National Digital Transformation Programme for 2021-25 was rolled out with a focus on developing e-governance, a digital economy and digital society.
It is an excellent time for businesses and others to take advantage of this initiative to embrace digital transformation, according to Tuấn.
Digital transformation is an inevitable global trend that businesses need to embrace quickly to catch up with the rapid changes in technology and develop sustainably. —VNS