Blood shortage warned as donations postponed due to COVID-19 outbreaks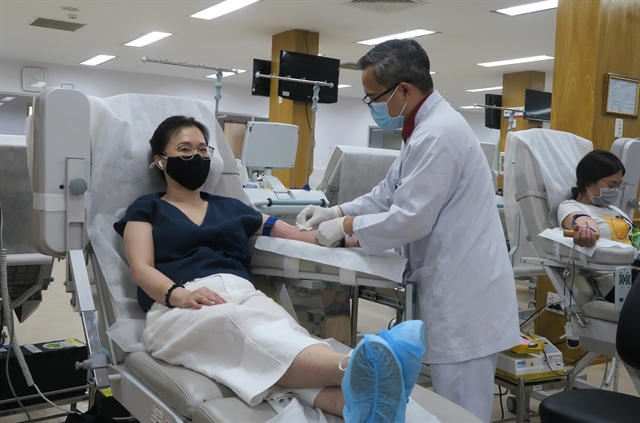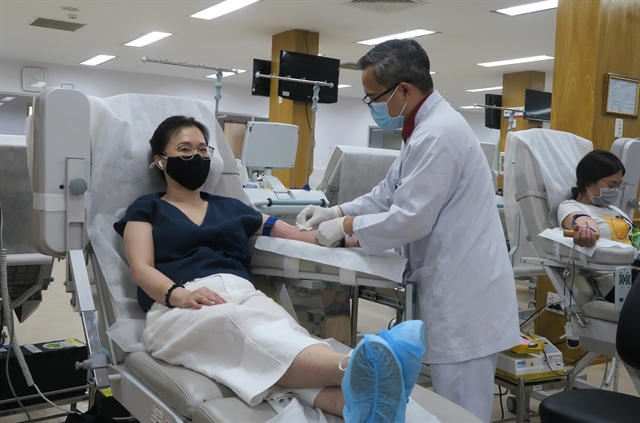 A woman in HCM City donates blood before the Tết holiday. — VNA/VNS Photo Đinh Hằng
HÀ NỘI — The resurgence of the COVID-19 pandemic in many cities and provinces in recent weeks has seriously affected the blood supply for medical treatment.
Although many people and organisations responded to the call of blood donation by the National Institute of Hematology and Blood Transfusion (NIHBT) on February 19, the amount of blood received per day was still only a few hundred units while the average need for treatment each day is from 1,200 to 1,500 units.
There is usually a shortage of blood during the Tết (Lunar New Year) holiday as the holiday lasts long while blood has a short shelf life and many patients still need blood transfusions during Tết.
This year, the pandemic's resurgence has made the shortage after Tết even worse.
Before Tết, 30 entities requested to postpone or cancel blood donation plans which meant the NIHBT missed out on receiving more than 8,000 units.
After the holiday, the institute received information about the delay of 24 more blood donation plans from now to the end of March with an expected donation of 5,000 units.
In addition, the blood donation schedule in March cannot be confirmed because it depends on the university and college's return to the school schedule.
This means the blood reserves of the institute are decreasing.
If this situation continues, blood reserves will decrease to an alarming threshold, fell into a state of scarcity and seriously affect the blood supply to health facilities.
The Institute's director Bạch Quốc Khánh said: "The estimated blood demand for emergency and treatment in February and March of the institute is about 50,000 units."
"With blood donation schedules maintained up to now, there was still a shortage of about 20,000 units, seriously affecting the provision of 177 medical facilities in 28 provinces and cities in the north with about 41 million people," said Khánh.
As of February 18, the institute's blood reserve was about 4,800 units, the director said.
To tackle the scarcity, the institute had to mobilise hundreds of its staff to donate blood both during and after Tết.
Responding to the programme 'White Blouse – Red Heart' on the occasion of Việt Nam Doctors' on February 27 launched by the Việt Nam Medical Trade Union, 33 grassroots trade unions have registered to donate blood.
But due to participating in the control of the COVID-19 outbreak, many units proposed delaying the donation events.
Therefore, from January 28 to February 17, the institute received only 8,152 blood units, with nearly 1,000 blood units donated by medical staff in Hà Nội including the NIHBT, Hà Nôị Oncology Hospital, Hà Nội Heart Hospital, Geriatric Hospital and General Agriculture Hospital and nearly 900 units from relatives of patients who were undergoing donation treatment.
At the same time, the institute has provided 15,700 units of red blood cells (excluding other types of preparations) for health facilities, many of which are remote or COVID-19 affected localities such as Quảng Ninh, Hải Dương, Bắc Kạn, Thái Nguyên, Hòa Bình, Lạng Sơn, Bắc Giang, Thanh Hóa, Nam Định and Ninh Bình provinces, according to the institute director.
Some days, the institute provides up to 2,500 units of blood, double the average daily need of 1,200-1,500 units of blood, although it can only meet 70-80 per cent of the blood demand of hospitals.
To create favourable conditions for people to donate blood, from now to March 7, fixed blood donation points in Hà Nội at No. 26 Lương Ngọc Quyến Street, 132 Quan Nhân Street, and No. 10, Lane 122 Láng Road will open from 8am to 12am and 1.30pm to 5pm every day instead of opening only from Monday to Saturday as before.
The NIHBT called for people with good health conditions to participate in blood donation (especially blood groups O and A) and platelet donation and asked agencies and organisations to maintain blood donation schedules and mobilise officials, employees and people to donate blood to help tackle the shortage. — VNS