Bắc Giang sees highest daily cases amid COVID-19 fourth wave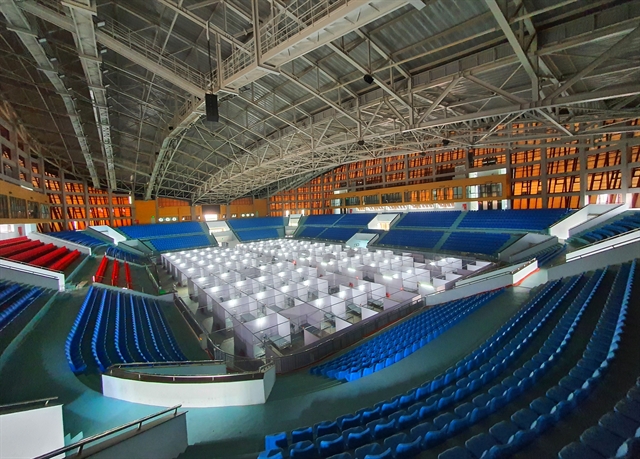 A field hospital with a capacity of 620 beds has been set up at Bắc Giang Province's gymnasium to deal with the outbreak in the province. VNA/VNS Photo Danh Lam
HÀ NỘI – Bắc Giang Province, the hotspot of the latest COVID-19 outbreak, has detected 375 new community cases, the highest daily increase of the fourth wave.
In total on Tuesday, the Ministry of Health registered 447 new infections nationwide, the biggest increase since the pandemic began.
Of those, three are imported cases and the remaining are 28 from Bắc Ninh Province, 23 from Hà Nội, seven from Lạng Sơn City, five from Hà Nam Province, two from Đà Nẵng City, and one from Thái Bình, Điện Biên, the Cancer Hospital (K) Hospital and HCM City respectively.
All cases in Hà Nội are related to the confirmed positive case from Spica Company and Đình Trám Industrial Zone in Bắc Giang Province. They had been quarantined previously.
All cases in Bắc Giang Province are from the Quang Châu, Vân Trung, and Song Khê-Nội Hoàng industrial zones.
Speaking at an urgent virtual meeting on Tuesday, Minister of Health Nguyễn Thanh Long said the new strain of SARS-CoV-2 virus and the high density of workers in the industrial zones sharing bathrooms and canteens led to the record number.
From Bắc Giang Province, Deputy Minister of Health Nguyễn Trường Sơn said the number of new cases would certainly rise in the coming days.
Lê Ánh Dương, Chairman of Bắc Giang People's Committee reported more than 12,600 people had been in close contact with the confirmed positive cases and needed to be quarantined.
In the past three days, the province has focused on large-scale testing. Notably, the ratio of F1 negative to positive was very high.
At Shin Young Company, the first firm in Vân Trung industrial park to detect infection cases, the rate of patients from negative to positive was 79 per cent. This rate at Hosiden Company in Quang Châu industrial zone was 55 per cent.
There were 18 cases of community transmissions in residential areas, but all were related to infected workers. Three more cases of medical staff on duty were reported.
Dương said the province had prepared a capacity of 2,627 hospital beds and a field hospital with the capacity of 620 beds located at the provincial gymnasium.
At the meeting, Long asked the ministry's special department in Bắc Giang Province to develop a scenario in case there are more than 3,000 new cases and to actively respond to the situation.
"The priority is to stamp out the pandemic in Bắc Giang Province so that it will not spread to neighbouring provinces and cities," he said.
"The urgent tasks that need to be implemented right now are to re-evaluate all risks of all districts, not only the four isolated districts under the Government's Directive 16, and apply social distancing if needed."
Areas where workers are living such as My Điền and Núi Hiểu villages must be locked down. Quick testing must be conducted for all residents in the surrounding areas every three days and PCR testing every week. Testing points must be set up to collect and return results to local people instead of sending samples to the authorised agencies and centres.
The provincial CDC reported more than 50,000 people in the high-risk group that had still not been tested.
Long said these people needed to get quick testing on the spot instead of waiting for PCR testing. Those who were negative to the virus must be quarantined and wait for PCR testing after seven days.
Deputy Minister Sơn will be in charge of the pandemic situation in Bắc Giang and make decisions in urgent circumstances without having to wait for the Prime Minister's approval. VNS