Authorities conduct COVID-19 tracing in Hà Nội, 10 imported cases reported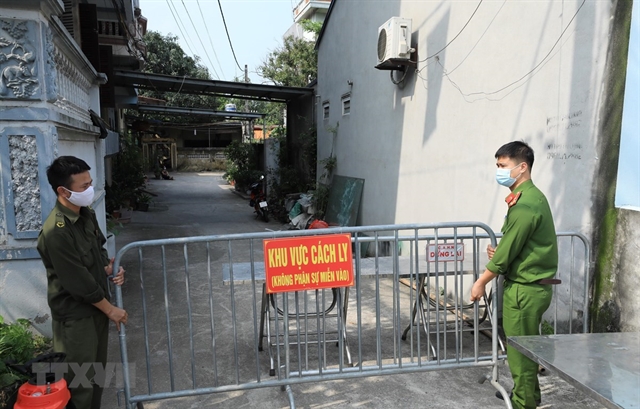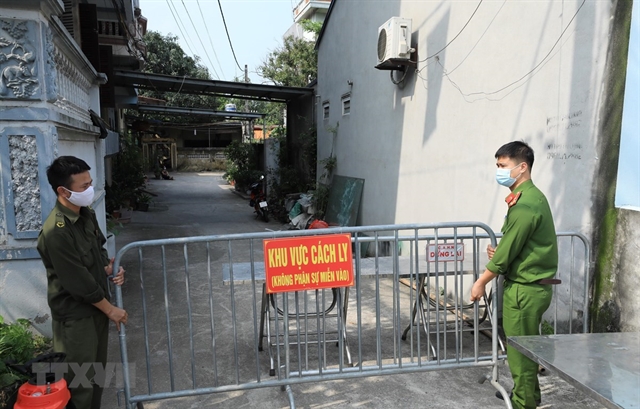 The authorities lock down Dục Nội street in Đông Anh District, where patient 2911 lives. — VNA/VNS Photo Minh Đức
HÀ NỘI ­— Authorities in Hà Nội are urgently tracing, testing and quarantining 50 people who had close contact with two new COVID-19 cases detected in Hà Nội on Friday afternoon.
The two cases – patients 2927 and 2928 – are workers of Thăng Long Industrial Zone in Đông Anh District, who were in close contact with patient 2911.
The homes and surrounding areas of the patients in Việt Hùng Commune, Đông Anh District have been locked down, with 17 households and 73 people under the measures.
The Hà Nội Steering Committee on COVID-19 Prevention and Control asked districts and towns to focus on quickly stamping out outbreaks and ensuring the virus does not spread to other localities.
They were also told to urgently trace, take samples for testing, and quarantine all cases in close contact with COVID-19 patients.
On Friday evening, the Ministry of Health also reported 10 imported cases.
The patients entered Việt Nam from France, India, the Philippines and Indonesia.
The patients were taken to quarantine facilities in HCM City and provinces of Tây Ninh, Sóc Trăng and Bà Rịa-Vũng Tàu upon arrival.
The two new cases in Hà Nam confirmed positive with the virus on Friday afternoon are patient numbers 2917 and 2918.
Variant from India
Amid the development of the pandemic in the countries surrounding Việt Nam, the Minister of Health has instructed leading institutes to conduct genetic sequencing of people entering Việt Nam who have COVID-19 to assess and take appropriate measures.
In northern Yên Bái Province, the Central Institute of Hygiene and Epidemiology took samples of all Indian experts and one case was a member of staff working at Như Nguyệt 2 Hotel to conduct genetic sequencing test.
The test showed that all the samples tested by Indian experts and hotel staff belonging to the variant are currently circulating and causing illness in India. Namely variant B.1.167.2. ­— VNS