All localities must be on highest COVID-19 alert, not only those with industrial zones: Deputy PM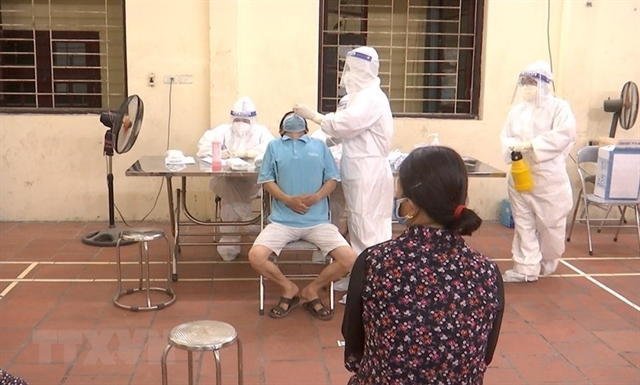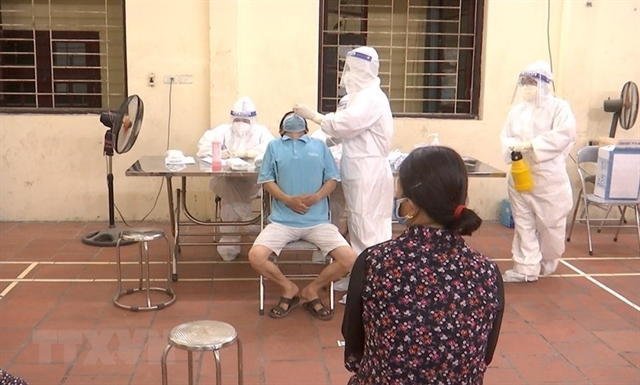 Medical workers take testing samples for people in Mão Điền Commune, Thuận Thành District in Bắc Ninh Province. — VNA/VNS Photo Thanh Thương
HÀ NỘI — Deputy Prime Minister Vũ Đức Đam on Thursday requested all localities nationwide to be on the highest alert for COVID-19 prevention, not only those with industrial zones.
Speaking at the National Steering Committee for COVID-19 Prevention and Control's online meeting with leaders of the two provinces – Bắc Ninh and Bắc Giang – with the two biggest hotspots for COVID-19 infections in the country, Đam, who is also head of the steering committee, said no one should think the infections were only in industrial zones.
Risks remained high in the community with many daily activities besides production activity of industrial zones, he said, asking all localities across the country to evaluate their situations regularly.
"If we only concentrate on fighting COVID-19 in industrial zones, we are likely to lose control in other vulnerable places," Đam said, adding that religious activities or crowd gatherings, like the one in HCM City, could pose a high risk of spreading infections into the community if no timely response was made.
Regarding COVID-19 in Bắc Ninh and Bắc Giang, Đam asked the provinces to speed up the implementation of COVID-19 prevention and control measures to stop the pandemic from spreading to other industrial zones.
He suggested the health ministry's special team in Bắc Giang and local authorities combine real-time-PCR testing and quick testing at pandemic hotbeds and speed up the self-collection of samples for quick tests among workers.
Bắc Giang should collect samples for screening testing in places that have yet to detect any infections or districts that have yet to apply social distancing, and strengthen monitoring of people with symptoms of cough and fever, Đam said.
He agreed with the plan to rearrange the production of enterprises in Bắc Ninh's industrial zones. The province has temporarily allowed a number of workers to stay in factories and arranged accommodation outside factories for workers who have to work in shifts and transports them to the factories safely.
However, the Deputy PM also stressed the threat of the pandemic spreading outside industrial zones, asking all localities to raise their awareness and vigilance to the highest level.
At the meeting, the Director of Bắc Ninh's Health Department Tô Thị Mai Hoa said that as of 12pm on May 27, the province had recorded 669 COVID-19 patients, with 5,056 F1 cases who had direct contact with confirmed patients.
Notably, screening testing for workers at Khắc Niệm industrial cluster in Bắc Ninh City on May 26 detected 19 workers positive for the coronavirus. An additional 40 cases were found on Thursday.
Việt Nam on Friday morning confirmed 40 new COVID-19 cases, bringing the domestic count of its fourth wave to 3,295 in a month.
Of the new cases, 30 were reported in Bắc Giang, eight in Lạng Sơn, one in Thái Bình and one in Long An.
Since April 27, Bắc Giang has reported 1,678 cases and Bắc Ninh 676 cases.
Joint efforts
Also on Thursday, President Nguyễn Xuân Phúc appealed to people both at home and abroad, businesses, and organisations to make material and spiritual donations to help drive back COVID-19.
At the launch of a COVID-19 fundraising campaign held virtually by the Việt Nam Fatherland Front Central Committee on Thursday, President Phúc expressed his gratitude to healthcare workers and other forces for their efforts to contain the pandemic.
He said the Vietnamese Party, State, and people are highly grateful to philanthropists for their donations, calling on all people to remain united in this fight.
Stressing that the country is in need of contributions from all people, the State leader asked citizens from all social strata both at home and abroad, businesses in all economic sectors, organisations, followers of religions, as well as other countries' people to work with the Party, people, and army to defeat the pandemic.
He also told authorities, sectors, and people to thoroughly grasp the spirit of the motto "fighting the pandemic is like fighting an enemy", asking the Government to invest every resource and take drastic, timely, uniform, and effective actions to combat the coronavirus.
The President emphasised that ensuring sufficient COVID-19 vaccines is also a decisive factor in claiming victory in the fight.
At the launch, President Phúc, leaders of ministries and sectors, socio-political organisations, and religious dignitaries made donations to pandemic prevention and control. Meanwhile, businesses and philanthropists pledged contributions worth more than VNĐ2.7 trillion (US$116.8 million) to the efforts.
The country has seen more than VNĐ1.3 trillion donated to the anti-pandemic fight between April 27 and May 26. — VNS