Airports nationwide on 'highest alert' following 30 new local COVID cases linked to HCM City airport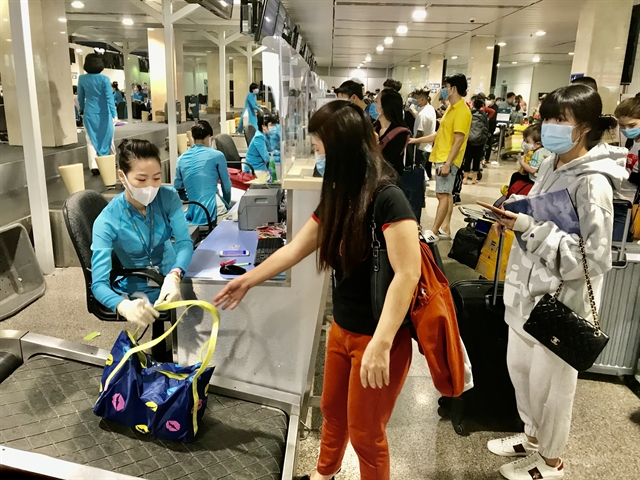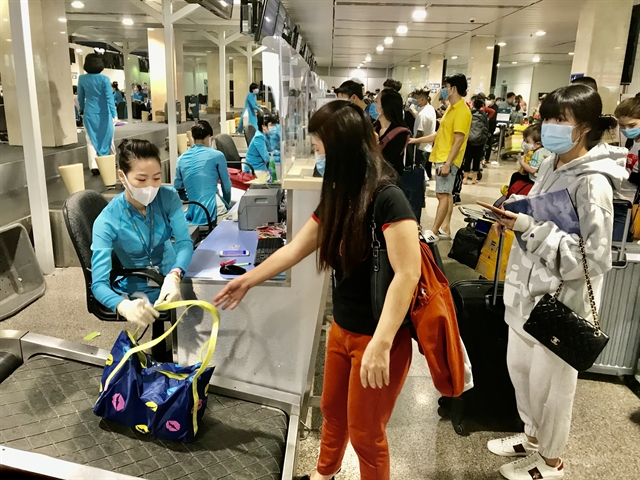 Passengers check-in at the domestic terminal at Tân Sơn Nhất international airport in HCM City last weekend. VNS Photo Bồ Xuân Hiệp
HCM CITY — Airport authorities across Việt Nam have been told to take the 'highest-level' measures to prevent the spread of COVID-19 during the Lunar New Year holiday, following 30 new locally transmitted cases identified recently at Tân Sơn Nhất international airport in HCM City.
As many as 30 positive cases linked to Tân Sơn Nhất airport have been announced as of Monday morning. They were identified after the airport administered tests for all airport staff, following an outbreak that broke out in the north and has spread to 12 cities and provinces.
HCM City on Monday morning organised an urgent meeting with city chairman Nguyễn Thành Phong to discuss preventive measures.
In a related move, the Ministry of Health has recommended that HCM City apply Government Directive No 16, which was issued last year and required people to stay at home except for justifiable reasons and to close down all non-essential businesses, in the city's high-risk areas.
Võ Huy Cường, deputy director of the Civil Aviation Authority of Vietnam (CAAV), said that travel demand has surged during the holiday at a time when new virus variants, which spread more quickly, have emerged.
The CAAV has ordered airport authorities, especially Tân Sơn Nhất airport, airlines and agencies in the aviation industry to fully implement pandemic preventive measures in line with the Ministry of Transport, CAAV and the Ministry of Health guidelines.
Medical screenings will be strictly conducted at the airport in line with the Government and Health Ministry regulations.
Passengers who fail to comply with regulations on aviation security, conceal infections, or fail to fill in health declarations accurately will be punished under the Criminal Law.
The HCM City airport has allocated staff to be on duty around the clock during the holiday. Airport staff are required to wear face masks while on duty, wash hands with alcohol-based sanitiser, have their body temperature checked, and disinfect surfaces regularly.
All airport passengers must have their temperature checked before boarding, fill out a health declaration, and wear a face mask during the flight. They must also abide by social distancing measures at check-in areas and will be given sanitised wipes.
All passengers must follow the Health Ministry's 5K message: Khẩu trang (face mask) – Khử khuẩn (disinfection) – Khoảng cách (distance) – Không tụ tập (no gathering) – Khai báo y tế (health declaration).
Authorities are considering to make it mandatory for everyone to strictly implement the 5K message in a move to prevent the spread of the coronavirus.
All employees of Việt Nam's 21 airports out of 22 airports were told recently to be tested for Covid-19.
Of the 22 airports, Vân Đồn airport in Quảng Ninh Province, which has been receiving repatriation flights with a number of passengers testing positive for COVID-19, has been locked down since January 28 after a number of airport employees tested positive. It is set to reopen on February 13.
Tân Sơn Nhất airport continues to operate normally but with strict preventive measures after identifying locally transmitted cases who are all airport staff.
In the past 11 days, the country has recorded 422 community transmission cases in 12 cities and provinces. Hải Dương and Quảng Ninh provinces in the north top the list with 309 and 47 cases, respectively.
In a few days, Vietnamese people will be celebrating the Lunar New Year, an occasion for family reunions that will see millions travel to their hometowns. Containment efforts could become more difficult to implement during the holiday period when big indoor gatherings are more common. — VNS