Aids for COVID-19 frontline workers needs to be more effective: official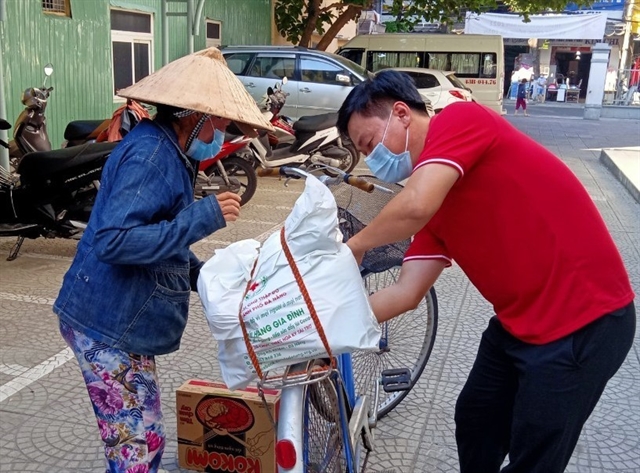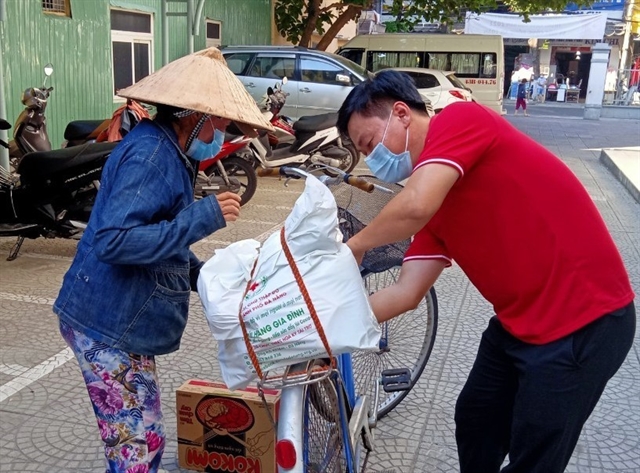 A staff member of Đà Nẵng City's Red Cross Society helps a local woman. — VNA/VNS Photo Trần Lê Lâm
Since the fourth wave of COVID-19 pandemic broke out in late April, many individuals and organisations have raised funds to support the frontline workers and people in places under quarantine and lockdown.
In a recent interview with Vietnam News Agency, Trần Quốc Hùng, Vice President of the Việt Nam Red Cross Society (VRC) Central Committee talked about how the Society raises funds to support frontline health workers and people affected by the pandemic.
The complicated developments of the pandemic have had immense effects on the lives of people especially the disadvantaged. What has the VRC done in response?
Since the COVID-19 pandemic started in Việt Nam in early 2020, the VRC has actively and proactively implemented response actions. We have raised funds within the VRC, called for individuals and organisations within and outside of Việt Nam to sponsor medical supplies, equipment, as well as nutrient food and drinks for frontline forces. We also supported local residents, especially the disadvantaged ones through programmes including organising charitable markets and setting up a rice ATM (an automatic dispensing machine providing free rice for people). Total funds for pandemic prevention and control work of VRC reached over VNĐ136 billion (US$5.9 million).
We have also supported Red Cross of other countries through the International Red Cross and Red Crescent system as well as embassies of countries like the US, India and Cambodia.
How does the VRC coordinate to deliver support to areas and localities that are placed under lockdown or quarantine?
For places under quarantine or lockdown, we pay attention to delivering medical equipment including protective suits, masks and sanitisers, food and necessities for the daily life of frontline staff and local people.
Since the fourth wave of infections, the VRC Central Committee has supported 63 provinces and cities across the country with the total amount of VNĐ11 billion, of which VNĐ2.9 billion was given to 17 localities with community transmission including Hà Nội, Bắc Ninh, Bắc Giang, Vĩnh Phúc, Quảng Nam and Quảng Ngãi as well as two provinces of Đồng Tháp and Tây Ninh, which are on borders and at high risk of transmission. People in quarantine and lockdown and workers returning home from pandemic areas abroad are also recipients of this support.
As the whole country is fighting against the pandemic, people are encouraged to do charitable acts to support people affected by the pandemic. Many individuals have raised funds and delivered the support at the quarantine and lockdown areas themselves. How does this make you feel?
I think that individuals fundraising is an act of kindness. It shows the tradition and culture of Vietnamese people. However, there are some limitations doing so. They include high risk of transmission. In some cases, goods donated are not what health workers and people really need. Sometimes this increases the workload of staff working in quarantine areas and creates more pressure for them.
How should fundraising be done to ensure safety amid the pandemic?
I think that the individuals and organisations should raise funds through the proper channels to ensure frontline health workers and people affected by the pandemic are supported in a safe, effective and professional way.
The VRC and Vietnam Fatherland Front are the two key agencies that receive and implement humanitarian activities.
There are red crosses at four levels, from central to commune and ward with hundreds of thousands of volunteers so we coordinate very well in campaigning and implementing activities to help those in need.
The VRC can also offer them information about people and places that need support and what they need. In addition our staff and volunteers have been trained on pandemic prevention and control. Our work is transparent and made public so we can avoid wasting resources.
A combination of these factors make it easier for us to support those in need in a timely, safe and effective way. — VNS