54 COVID-19 cases confirmed on Friday evening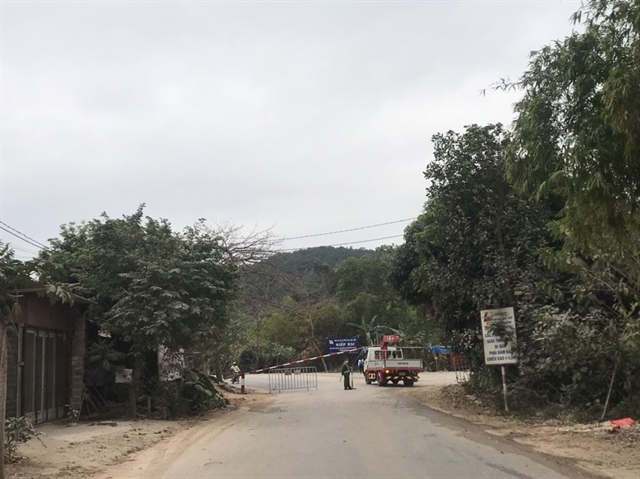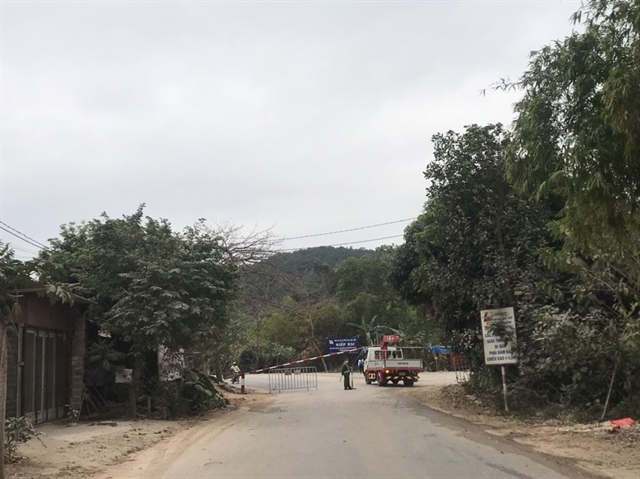 A COVID-19 pandemic control checkpoint on Highway 37 in Lê Lợi Commune, Chí Linh City, Hải Dương Province. — VNA/VNS Photo Mạnh Minh
HÀ NỘI — A total of 54 new cases of COVID-19, including one imported case and 53 community cases, were confirmed on Friday evening, according to the Ministry of Health.
The new cases bring Việt Nam's total to 1,705 COVID-19 patients.
The community cases include a two-year-old girl in Bắc Ninh Province. She is the daughter of patient No 1,565 and was related to the outbreak in Chí Linh City, Hải Dương Province.
Đồng Nai has one imported case who is a 31-year-old man returning from Japan. The Vietnamese resident was quarantined upon arrival at the Tân Sơn Nhất International Airport in HCM City on Wednesday. His test result returned positive on Thursday.
One community case is from Hà Nội. He is 20, from Chí Linh City and temporarily lives in Cầu Giấy District in Hà Nội.
Three other cases are in Quảng Ninh Province who all live in Đông Triều Town.
Hải Dương Province has 48 community cases and they are epidemiologically related to the outbreak in Chí Linh City.
During a Government meeting with the National Steering Committee on COVID-19 Prevention and Control on Friday, Prime Minister Nguyễn Xuân Phúc said the health ministry must ensure Việt Nam has vaccines in the first quarter.
Responding to a request by Hải Dương Province's authorities on lacking quarantine zones, PM Phúc ordered local military facilities to give priority to quarantine.
Field hospitals ready
A field hospital with a capacity of 200 patients was put into operation on Friday at the healthcare centre in Chí Linh City.
Forty-five doctors and 70 nurses have been sent to work there.
The field hospital was built in two days to meet the urgent treatment needs after the province became a new coronavirus cluster with more than 100 new community cases recorded on Thursday and Friday.
Chí Linh City has been locked down for 21 days from Thursday.
Medical experts from the National Hospital for Tropical Diseases came to the centre on Friday morning to train local healthcare workers.
Twenty intensive care beds will be set up by the National Hospital for Tropical Diseases at the Chí Linh City's healthcare centre to treat severe cases.
Modern equipment will be transported to the field hospital.
According to Hải Dương Province's Steering Committee of COVID-19 Prevention and Control, negative cases will be moved out from the field hospital to give space for positive cases.
Severe cases will be transferred to the provincial general hospital while less severe cases will be treated at the medical centre of Nam Sách District.
Patients who are discharged from the hospital will be quarantined at a concentrated site in Chí Linh City.
Dr Nguyễn Trọng Khoa, deputy head of the health ministry's Medical Services Administration, said the pandemic development in Hải Dương is complicated.
Among 29 patients being treated at the healthcare centre of Chí Linh City, three cases need special attention including two pregnant women and one person suffering from chronic diseases.
The second field hospital of Hải Dương located at the Hải Dương Medical Technical University received 31 COVID-19 patients on Friday.
Besides two field hospitals, the health ministry will set up one more at the provincial sports centre in preparation for a worst-case scenario.
At an online meeting with field hospitals in Hải Dương on Friday afternoon, Minister of Health Nguyễn Thanh Long said all COVID-19 patients needed to be moved to those two hospitals for treatment. Only serious cases will be transferred to national-level hospitals.
Most of the positive cases confirmed in the province were from Poyun Company. "We are able to contain and zone off the infection area," he said.
The health ministry has mobilised a testing lab with maximum capacity of 5,000 samples per day to assist Hải Dương.
Dr Phạm Gia Bình, head of the treatment unit, asked the field hospitals to follow treatment therapies of the health ministry, noting that the doctors must be prepared for cases which become serious in the next few days.
Việt Nam built a number of field hospitals to treat COVID-19 patients during the previous waves like Củ Chi Field Hospital in HCM City and Đà Nẵng Field Hospital. Thousands of people were quarantined and treated thanks to the operation of those hospitals.
Meanwhile, Deputy Minister of Health Nguyễn Trường Sơn has sent a dispatch asking all medical workers of healthcare facilities nationwide to take COVID-19 tests using Realtime RT-PCR technique.
Hospitals must conduct the tests on all patients being treated at emergency and intensive care units and take the tests randomly on at least 30 per cent of inpatients being treated at other units for screening and early diagnosis of the infection risks. — VNS