30,000 rapid diagnostic tests to quickly identify sources of COVID-19 transmission in HCM City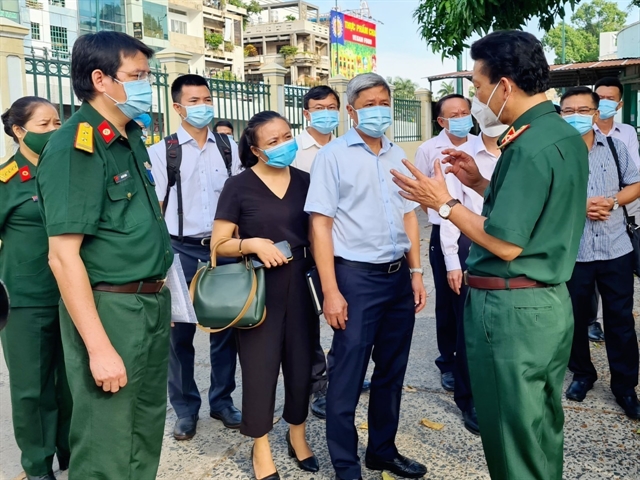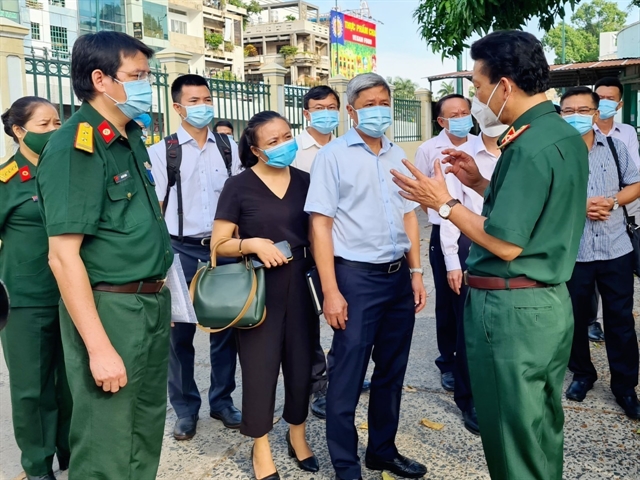 The standing team for COVID-19 prevention and control in HCM City checks Military Hospital 175. VNA/VNS Photo Đinh Hằng
HCM CITY — The Ministry of Health will provide HCM City with 30,000 rapid diagnostic tests to help the city quickly trace contacts and identify transmission sources of COVID-19.
The ministry agreed to provide the tests following a request by the head of the HCM City Department of Health at a meeting on Wednesday between Deputy Prime Minister Vũ Đức Đam and the HCM City People's Committee.
Deputy Minister of Health Trần Văn Thuấn said the ministry would provide additional assistance to the city in the upcoming time.
The standing team for COVID-19 prevention and control in HCM City is headed by Deputy Minister of Health Nguyễn Trường Sơn.
Nguyễn Tấn Bỉnh, head of the city's Department of Health, said the health sector is giving rapid diagnostic tests to more than 1,600 staff of VIAGS Company which provides cargo service at Tân Sơn Nhất International Airport, where an outbreak has occurred.
Eight employees of the company tested positive for the coronavirus that causes COVID-19.
Because some people, designated F2, who had contact with COVID-19 patients, designated F1, tested positive, all of VIAG (Vietnam Airport Ground Services) company staff and others working at Tân Sơn Nhất airport were being tested, he added.
Nguyễn Trí Dũng, head of the city Centre for Diseases Control and Prevention, said the rapid tests will be used to supplement PCR tests, which are considered the most accurate tests and give results only six hours later.
Deputy Prime Minister Vũ Đức Đam, head of the National Steering Committee for COVID-19 Prevention and Control, said that HCM City should also screen and take testing samples from people at bus stations and coffee stores in areas near factories and near the city gateways.
Đam said that the city should not miss any transmission source and should monitor and provide tests at bus and train stations. The city should also try to identify all locations of outbreaks in the community, he added.
He noted that sources of transmission could also come from people illegally entering the country.
HCM City is the first in the country to set up criteria on "giving scores" for COVID-19 prevention and control activities at health facilities, schools, factories and bus stations, he said.
The city and other provinces have given instructions to these public places about preventive measures and have also provided updates to the "Map of Safely Living with COVID-19" which can be found on the website www.antoancovid.vn.
The city has quickly traced F1 and F2 contacts, and has zoned and locked down 33 sites that contain locally transmitted cases.
On February 10, the standing team for COVID-19 prevention and control in the city checked the lockdown area in Gò Vấp District and Military Hospital 175.
The team also checked the field hospital and quarantine area at Military Hospital 175.
Nguyễn Hồng Sơn, director of the Military Hospital 175, said that after the new COVID-19 patients came to the hospital, all of the hospital staff were tested.
The quarantine area at the field hospital was set up to admit medical officials who have had close contact with COVID-19 patients.
Deputy Minister of Health Sơn instructed the Military Hospital 175 to prepare to admit COVID-19 patients if other designated hospitals become overloaded.
Elsewhere, the Central Highlands province of Gia Lai on February 10 recorded four more people testing positive for COVID-19, increasing the total number of COVID-19 patients in the locality to 26.
The four new patients, who were F1 contacts, have been isolated in quarantine areas. VNS