3 more people diagnosed with COVID-19 in HCM City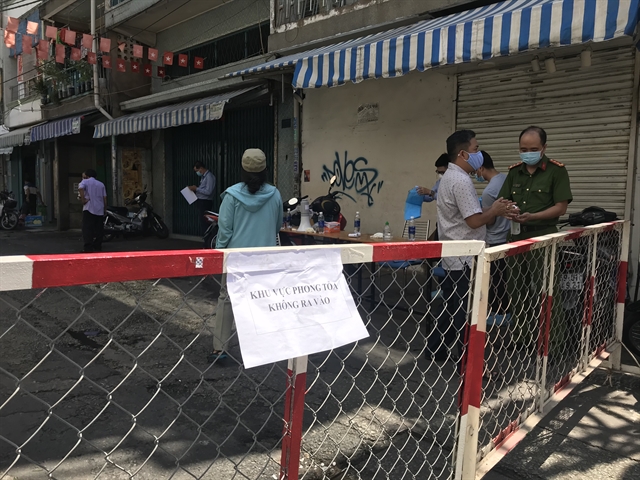 Authorities on May 20 lock down alley No.287, Nguyễn Đình Chiểu Street, District 3, after a woman living there tested positive for COVID-19. — VNA/VNS.Photo Đức Hạnh
HCM CITY — Three people in HCM City are suspected to have contracted COVID-19 following tests on May 20, according to the city Centre for Diseases Control and Prevention.
The protocol is that the confirmation has to come from the Ministry of Health.
A 58-year-old woman tested positive following tests at Phạm Ngọc Thạch Hospital, and two of her family members who live with her were then found infected too as health officials contact traced 15 people who came into close contact with her.
The rest are awaiting the results.
The previous day she had gone to Medic Medical Centre in District 10 to get a chest X-ray and CT scan, which showed one lung was damaged, and a doctor there immediately sent her to Phạm Ngọc Thạch Hospital.
At the hospital, she was tested, found positive for COVID and isolated, and a second sample was taken and sent to the Hospital for Tropical Diseases.
It confirmed she had contracted the disease.
Another relative who accompanied her to the hospital and lives in Bình Tân District has tested negative the first time.
Authorities immediately locked down alley No.287, Nguyễn Đình Chiểu Street, District 3, where she lives, and four departments at the Medic Medical Centre.
Other people living in the alley are also being tested.
The Centre for Diseases Control and Prevention also said a man in Thủ Đức city, who contracted the disease from the patient in District 7, has the SARS-CoV-2 Indian variant B.1.617.2.
The Department of Health has instructed private and public hospitals to assign staff to help the HCDC take samples for rapid COVID screening and tracing to control the outbreak if cases continue to be found.
It also instructed them to set up a three-member team for taking samples for every 50 beds.
Companies in the city are carrying out preventive measures to ensure employees' safety, including dividing them into shifts.
Others have isolation areas for employees with fever, cough or shortness of breath.
Hứa Quốc Hưng, head of the HCM City Export Processing and Industrial Zones Authority (HEPZA), told Tuổi trẻ (Youth) newspaper that it has instructed enterprises in industrial zones to comply with safe production indexes, and a failure will entail temporary closure.
HEPZA is co-operating with health centres in districts and the HCDC to test on a large scale in 17 export processing zones and industrial parks and apartment buildings occupied by workers. — VNS