17 COVID-19 cases confirmed on Monday evening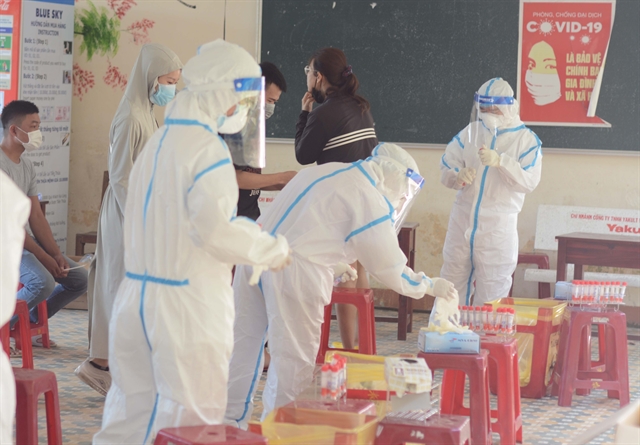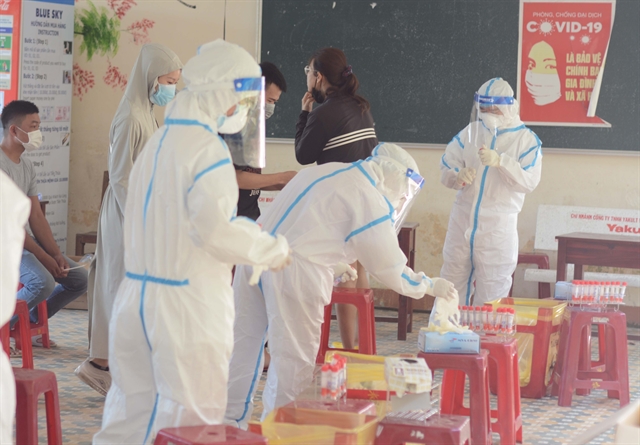 Medical workers prepare to take samples for COVID-19 tests in the central city of Đà Nẵng. — VNA/VNS Photo Văn Dũng
HÀ NỘI — Seventeen new cases of COVID-19, including one imported case and 16 domestic cases, were confirmed on Monday evening, raising Việt Nam's total caseload to 3,461.
The imported case is a two-year-old girl who was quarantined upon arrival in Hà Tĩnh Province.
The 16 domestic cases were all already in quarantine areas, including six in Hưng Yên Province, four in Đà Nẵng City, three in Bắc Giang Province, two in Hà Nội and one in Vĩnh Phúc Province.
The new cases are aged between eight and 71 and are all close contacts of previously confirmed patients.
Việt Nam saw 78 cases of COVID-19 on Monday morning and 31 others at noon, making for a total of 125 throughout the day, a record number of patients confirmed in 24 hours since the pandemic began last year.
Adverse vaccine reaction
Ngô Thị Kim Yến, director of the Đà Nẵng Department of Health, said on Monday a person suffered from anaphylactic shock after receiving the AstraZeneca COVID-19 vaccine.
She is a 31-year-old medical worker of the Anti-Poison Active Recovery Ward under the Đà Nẵng Hospital.
She has no history of allergies and was screened and counselled before vaccination.
After the injection, she suffered tinnitus and difficulty breathing and then received emergency care at the Department of Intensive Care and Anti-Poison Ward of the Đà Nẵng Hospital.
Now she is under ventilatory sedation and has stable blood flow thanks to vasopressors. — VNS