117 new COVID-19 patients reported Monday evening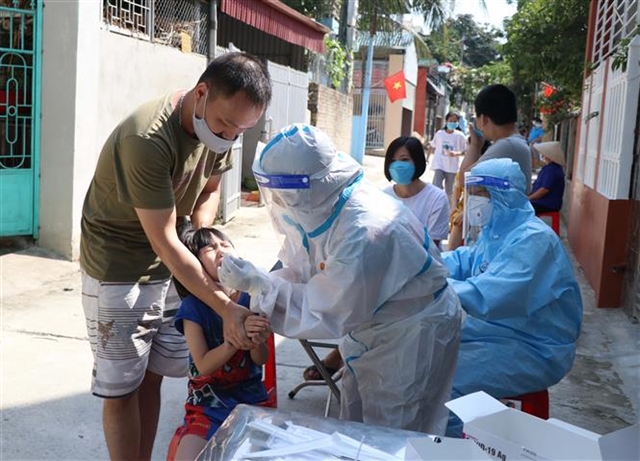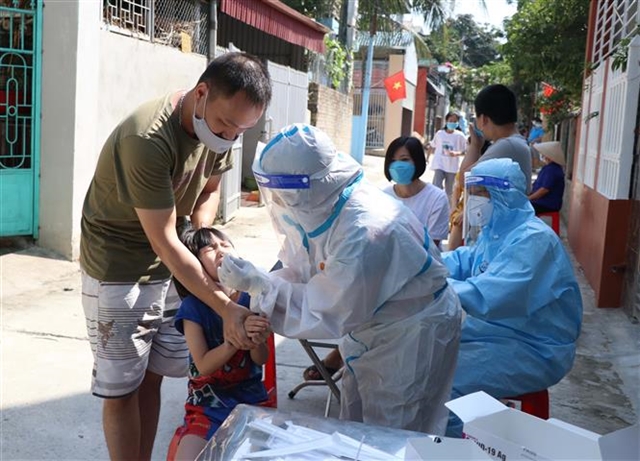 A child living in residential group number 5 in Him Lam Ward, Điện Biên Phủ City gets tested for COVID-19 yesterday after two people living here were confirmed positive on Sunday. VNA/VNS Photo Xuân Tiến
HÀ NỘI — The Ministry of Health last night confirmed 117 new COVID-19 cases, bringing the total increase over the past three days to 542.
It's the sharpest rise during 72 hours the country has seen since the first ever coronavirus case was detected in January last year.
Bắc Giang is the area hit the hardest, with 61 new cases detected last night in the northern province. Bắc Ninh is also a locality suffering with new patients, 61 recorded in yesterday's update between 12 noon and 6pm.
Of the new community infections, 93 patients are already in isolated areas and 23 are in areas currently locked down by the authorities.
There was also one imported case, a 23-year-old woman who entered the country from Japan. She was immediately isolated on arrival.
One of the new patients is a five-year-old boy from Việt Trì City in Phú Thọ Province.
Earlier on Monday, 30 new cases were announced between 6am and noon, 28 community transmissions and two imported from overseas.
Again Bắc Giang topped the list of most infections with 14. All the local transmissions were found in patients already in isolation areas.
On Monday morning, 37 domestic cases were announced, 22 in Bắc Giang, 11 in Bắc Ninh , three in Vĩnh Phúc and one in Tuyên Quang.
Again, 15 of those were already in isolated areas and 22 in zones locked down by the authorities.
To date, there have been 4,359 people testing positive for COVID-19. Of those, 2,668 have made a full recovery.
Right now in Việt Nam, more than 108,000 people are currently in quarantine. Of those, 1,611 are in hospitals, 31,708 are at special facilities and just under 75,000 remain quarantined at home.
Speaking at a regular Government meeting on COVID-19 prevention and control on Monday, Prime Minister Phạm Minh Chính said everyone needs to stay alert as the risk of infection is still high and new outbreaks can happen at any time.
He stressed the country's urgent goal at the moment is to prevent the spread of the virus, while ensuring socio-economic development, as well as safety for the elections of the 15th National Assembly and People's Councils at all levels, which are set to take place on May 23.
The PM asked all ministries, sectors and leaders in localities to develop plans and scenarios to control the pandemic in all situations, especially when outbreaks occur in industrial parks and possess high risks of infections. — VNS