1.7 million COVID-19 vaccine doses from COVAX to arrive in Việt Nam on May 16: Health minister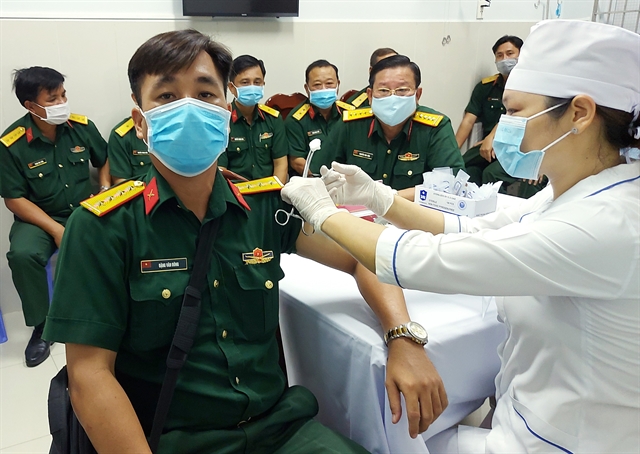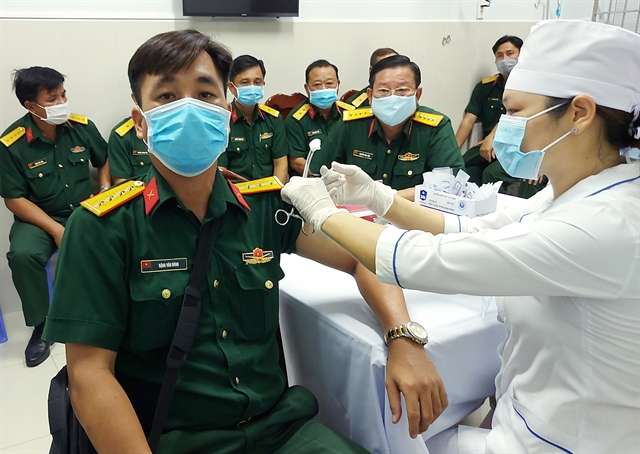 Officers of the Bạc Liêu Province's military command receive COVID-19 vaccine shots. — VNA/VNS Photo Chanh Đa
HÀ NỘI — Almost 1.7 million doses of COVID-19 vaccines from the COVAX scheme are expected to arrive in Việt Nam on Sunday, health minister Nguyễn Thanh Long said on Thursday.
The health chief said that the vaccine, supplied by the global vaccine sharing initiative COVAX Facility and delivered by the UN Children's Fund (UNICEF), will be distributed to all agencies and localities to speed up the national vaccination drive, especially for priority groups.
This is the second batch from COVAX in addition to the shipment of 811,200 doses of AstraZeneca that arrived on April 1.
UNICEF states that a firm commitment could only be given within 24 hours prior to the shipment arriving, but the Sunday delivery schedule this time looks to be certain so far, according to UNICEF representative.
The health ministry has been working to facilitate negotiations and access different sources of COVID-19 vaccines, as well as implementing measures to ensure safe inoculations in the rollout of the biggest vaccination drive the country has ever done, Long said.
As of May 13, 62 localities nationwide have completed their vaccination plans with more than 942,030 doses of AstraZeneca vaccine administered mostly for frontline workers and people involved in COVID-19 prevention and control activities as well as military and public security officers, according to the Thursday morning report from the National Expanded Programme on Immunisation.
On Thursday, spokesperson for the foreign ministry Lê Thị Thu Hằng said Việt Nam hopes countries will waive COVID-19 vaccine patents so greater access to vaccines can be achieved, adding that Việt Nam is seeking to diversify its vaccine supplies in addition to domestically made COVID-19 vaccines that are still in clinical trials.
In one week starting Thursday, 1,500 employees of the national flag carrier Vietnam Airlines, mostly those that frequently come into contact with passengers and ground services staff, will receive shots.
Each day, about 250 people will be administered the vaccine at the inoculation centre of the National Children's Hospital.
Nearly 800 staff of Vietnam Airlines Group working at Tân Sơn Nhất and Vinh international airports have already been given the jabs.
Việt Nam has documented 2,234 domestically-transmitted COVID-19 infections and 1,445 imported cases as of Thursday noon. As many as 664 new cases were recorded since the so-called fourth wave of infections hit the nation on April 27. — VNS